Founded in 1973, Colines is a family-owned company with a strong international focus, specializing in the development of blown and cast extrusion solutions. The company has always invested in technology and innovation, and it is in constant dialogue with processors, with whom it works in partnership to interpret the market and offer the most appropriate responses to different needs. The verticalization process adopted by Colines allows the company to design, manufacture and test its lines directly and to be in ever closer contact with its customers. The founding families of Colines are still at the head of two holding companies with a total turnover of 120 million euros, of which 80 million comes from the construction of extrusion machinery and the rest from processing. In total, they have 50,000 square metres of covered assembly/production area, more than 60 patents and 200 employees. This is what Gabriele Peccetti, Marketing and Communications Director, has to say.
R&D, a culture of innovation and new solutions
"We have always developed extruders with cast technology," begins Peccetti, "from stretch to polypropylene and hygienic films. In 2021 we started our expansion project in the blown sector, which has led to the sale of many machines in a short time, 10 of them last year alone, including one of the most complex blown machines on the market: 11 layers and 4,300 mm net end web. This is the Polyblown series, which covers a very wide range of the market: from 3 to 11 layers with a net final width of up to 4,300 mm. This is a type of machine on which our group places great emphasis. Colines has separate R&D departments for cast, cast stretch and blown lines, in which it invests a large part of its profits each year. It should be emphasized that we do not just focus on the machine, but also on product development, with the aim of offering our customers a complete package. Recently, we have also started to follow the development of technology related to recycled material, moving from 100% virgin material to new green materials with varying percentages of recycled material. In short, we want to process a variety of recycled materials to promote their recovery. We are therefore focusing on two fronts: our current products and machines capable of processing recycled materials.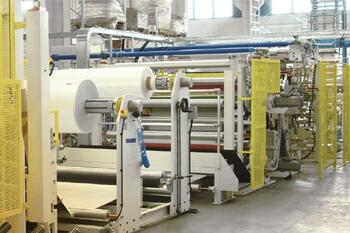 Sustainability at the heart of the business
A business model that covers the entire supply chain, from technology to materials, combined with a strong commitment to R&D, allows Colines to face the market with the strength of more than 60 patents, enabling it to combine technological development with the sale of services. A great deal of attention is paid to sustainability, on which Peccetti says: "With regard to sustainability, which is the issue of the moment, it must be emphasized that our business has an intrinsic green quota, given the activity linked to the development of recycling technology. We are also building a section of the site dedicated to the subject, which will cover the concept in depth, from green to internal policies for the improvement of personnel, the adoption of electric mobility solutions and renewable energy to power shares of industrial activity. Of course, for us, sustainability is mainly expressed through the use of recycled materials. Colines is in constant contact with resin producers, which allows us to test the material on our extrusion lines, assess its quality and participate in the development phase accordingly.
Converting protagonist at the fair
Finally, we cannot fail to mention the forthcoming participation in the 2023 edition of Plast, about which Peccetti says: "There are expectations for the fair, which is important for our sector: for our part, we will privilege the converting side, putting it at the centre, but without forgetting extrusion, which is our core business. The proximity of our plants to the exhibition halls will enable us to organize ad hoc visits for customers to demonstrate our technology on the machines installed. We will not be organizing a real open day, but we will be showing the machines in the factory, making our participation a hybrid experience between trade fair and company".