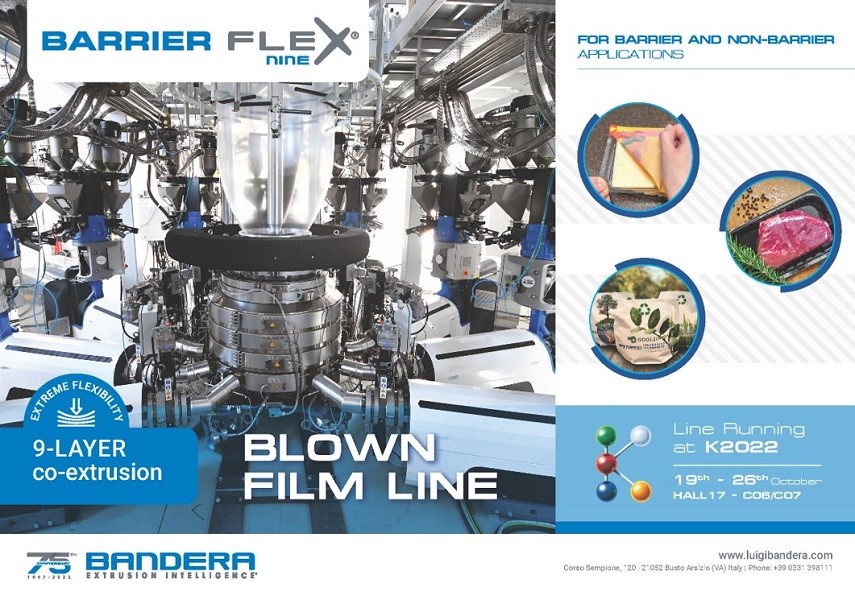 BANDERA - Extrusion Intelligence ha raggiunto quest'anno il prestigioso traguardo dei 75 anni di attività, confermandosi fra i leader mondiali di settore nella progettazione e produzione di linee per l'estrusione di materie plastiche per il packaging industriale e indirizzato ai beni di consumo, con particolare riferimento a:
- film in bolla (packaging e converting, sacchi industriali, film agricolo e geomembrana);
- testa piana (linee PET, film rigido, lastra e tecnologie speciali);
- estrusori (standard e su misura monovite e bivite; granulazione PVC);
- recycling (impianti di estrusione adibiti al recupero e alla riqualificazione degli scarti post industriale e post consumo).
Cogliendo l'opportunità di ritornare ad incontrare il mercato in presenza, BANDERA - Extrusion Intelligence parteciperà al K 2022, la prestigiosa fiera tedesca dedicata all'industria delle materie plastiche e della gomma, la più importante del settore a livello mondiale che quest'anno celebra 70 anni e che si terrà a Düsseldorf dal 19 al 26 ottobre.
L'organizzazione dello spazio espositivo ha il proprio fulcro nell'installazione dell'innovativo impianto a 9 strati "Barrier Flex Nine" per la produzione di film barriera.
L'impianto, installato direttamente sul posto, sarà perfettamente funzionante e realizzerà diversi prodotti, assolutamente innovativi e presentati nel corso di sezioni dimostrative dedicate agli specialisti di settore, secondo un programma prestabilito.
La sfida che lancia un evento importante come il K 2022 è per BANDERA - Extrusion Intelligence un'ulteriore occasione per aggiungere valore al proprio manifesto di qualità, che si sviluppa su diversi punti cardinali.
INNOVAZIONE
Una vera matrice imprenditoriale e industriale: ieri obiettivo, oggi realtà tangibile. Il reparto R&D (ricerca e sviluppo), i laboratori interni e la presenza ai tavoli dell'Industria 4.0 individuano le risposte alle domande di Problem Solving che sanno andare oltre le "semplici" richieste commerciali del mercato di riferimento e delle normative.
AFFIDABILITÀ
Ricerca e innovazione: rimangono concetti astratti senza la messa a terra della solidità, misurabile non solo dai dati economici, ma anche attraverso parametri di verifica che prevedono continuità sul mercato, credibilità di prodotto, efficienza del servizio e customizzazione.
SOSTENIBILITÀ
Tema imprescindibile che determina un percorso con soluzione di continuità nel pieno rispetto dell'economia circolare, dal Recycling all'Upcycling passando per scelte aziendali concrete e certificate: dall'approccio progettuale all'ingegnerizzazione, dall'analisi dei nuovi contesti alle risposte in termini di prevenzione e gestione del prodotto finito, senza compromessi.
K2022 Düsseldorf Germania 19-26 Ottobre 2022 Hall 17 stand C06-C07
Lieti di fornire ogni altra informazione contattando [email protected]
BE PART OF THE PLASTIC CHANGE! - VISIT US @K2022
@banderaontheweb/@house_extrusion/@extrusion_EA
 Costruzioni Meccaniche Luigi Bandera SpA
 Bandera U.S.
 ExtrusionbyBandera