The car of the future will drive electrically and autonomously, and some conventional components will therefore become superfluous, while others will play an increasingly important role as elements with recognition value turning design into a priority.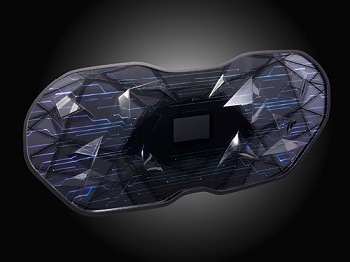 The radiator grille is a thing of the past - new concepts take its place
At the Automotive Brand Contest, LEONHARD KURZ was awarded a prize for the design of its Iconic Space Grille - and rightly so. The innovative component supports two future trends at the same time and is therefore perfectly suited for manufacturers who want to position themselves ideally for tomorrow:
- The Iconic Space Grille is specially designed for electric cars and is a real eye-catcher thanks to its unique surface design with overlapping optical structures and light-refracting prisms
- Through partial backlighting, the component enables visual communication with other road users or passers-by. Different colored light signals indicate that the vehicle is braking, turning, or charging - ideal for autonomous vehicles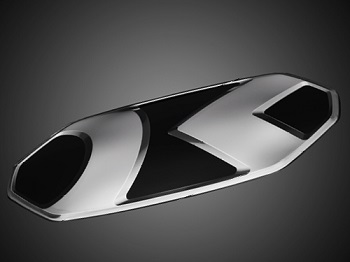 Efficient & Sustainable: In-Mold Decoration for autonomous vehicles
Autonomous driving is going to make certain features such as radar technology support indispensable. Thanks to innovative production and coating processes, components can be tailored to these requirements. To help manufacturers and suppliers make their products fit for the future, LEONHARD KURZ is now introducing a pioneering process for In-Mold Decoration:
- "IMD Second Surface" combines injection molding and decoration in a single highly efficient work step, which not only leads to cost and time savings, but also to an intensive reduction in CO2
- In addition, the components manufactured and decorated in the "IMD Second Surface" process, including the decorative layers, are recyclable
- Last but not least, depending on customer requirements, recyclate can be used in component production
At this year's FAKUMA trade fair, KURZ demonstrated the process live and produced a design badge which allows radar waves and 5G to pass through and is perfectly suited for autonomous vehicles.
High-tech surface metallization
Imagine combining design, sustainability, and cost-effectiveness in your products. Thanks to a new solution by LEONHARD KURZ, this is no longer wishful thinking. The new indium metallization is an absolute all-rounder. When used in exterior design, it scores points for transmitting radar waves and perfectly supporting autonomous driving. Inside the car, on the other hand, it convinces by allowing backlighting and Shy Tech designs.
Thanks to its silver-white color, the metal indium is an appealing alternative to chrome - and at the same time much more sustainable. The new finish does not impact the recyclability of the decorated products and is also perfectly suitable for enhancing recycled materials.
Find out more about KURZ's future-proof solutions in the field of automotive design now!