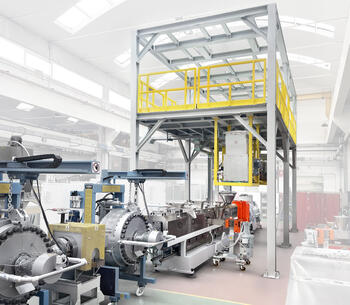 In the last six months Icma San Giorgio has successfully completed four installations, with a fifth due to come shortly, of recycling lines dedicated to re-compounding of post-consumer plastic waste, all equipped with high-performance co-rotating twin-screw extruders model Icma MCM 110 and MCM 140 High Torque. Lines are installed in three different sites located in Europe and owned by major plastic processors.
All projects include the engineering and subsequent construction, installation and start-up of turn-key lines dedicated to the recycling of polyolefin, either polypropylene or polyethylene, with different density and possibility to add fillers and/or modifiers depending on the single set-up
The selected extruders have enhanced degassing systems for efficient extraction of contaminants. The high torque of the extruders also provides an optimal filling of the screw and therefore a maximum production output in the range from 2 to 4 tons per hour depending on size of extruders, filtering tasks and type and/or density of the scrap.
Single systems of the line are generally integrated into Icma's control panel, and all cabinets have remote control gates for efficient post-sale service.
All lines are equipped with gravimetric dosing systems and with forced feeders, in its latest design and when appropriate, for light scraps, notably difficult to feed into the extruder.   
Thermoregulation system is highly precise and is made following the strict standards used in engineering compounds where also square design for barrels is a must in modern extruders.
Filtration systems, depending on the setup of the different lines delivered, can achieve 80 microns to guarantee maximum purity of the processed scrap with limited sacrifice for output range. Underwater pelletizers are set at the end of each line, necessarily for big outputs.
"Sustainability and ESG policies are more and more driving processors to invest in advanced mechanical recycling", Giorgio Colombo, Managing Director at Icma said. "Our latest generation of co-rotating extruders combined with 50 years of experience as turn-key specialist in this field makes Icma the partner of choice in this dynamic and challenging industry".