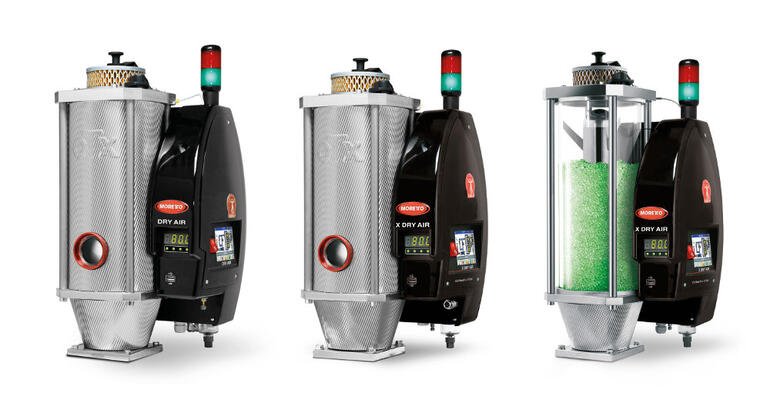 Satisfaction at Moretto: the European Patent Office (EPO) definitively confirmed the uniqueness and exclusivity of the Dry Air system, patented by the company in 2005, but since then the subject of opposition by two competitors. After 18 years spent in the granting and opposition procedures, EPO has confirmed the international patent for this system, recognising its innovative and distinctive character.
Dry Air is a self-regenerating dual-tower dryer based on zeolite technology. It uses compressed air and controls the air flow supplied to the hopper. The compact size of the system allows its installation directly on the entry side of the machine for the treatment of engineering polymers such as, for example, PA 6, PBT and PEEK used in high-tech applications including the medical, optical, electronics and telecommunications industries. In fact, these materials are constantly evolving and require advanced treatments in order to deliver finished products that are able to meet the strict standards of these industries. The standard equipment of the Dry Air range includes an anti-stress system, which prevents polymer over-drying, and the OTX hopper, which increases and completes the performance of the dryer unit, creating a solution featuring excellent energy efficiency.
With over 15,000 units sold, the Dry Air mini dryer is among the solutions by the Venetian manufacturer most appreciated by processors all over the world thanks to its performance levels, compact size and a design accurate in every detail.