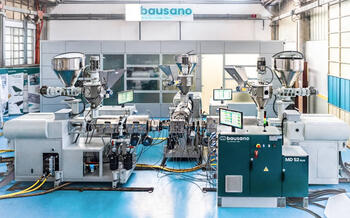 Founded in 1946, Bausano is a company that designs and manufactures extrusion lines for plastics processing, and for seventy years it has been committed to technological development in order to meet the needs of processors with flexibility, market knowledge and customized solutions to meet the most complex requirements. Alessandra Grosso, Marketing Manager of the Piedmontese manufacturer, tells us.
"We have been changing our technological horizon for a few years now," begins Alessandra Grosso. "Our technology, which for about 70 years (from 1946 to 2016, ed.) was mainly focused on PVC processing, has broadened its horizons with a new range of products: the new E-GO series, consisting of single-screw extruders redesigned mainly for the ABS, PVC, PP, PE profiles, sheaths and gaskets segment. Not forgetting the new materials (WPC, PLA, PVOH, EVA, PA 6), which we can always test on our own equipment".
Bausano, one of the leading manufacturers of twin-screw counter-rotating extruders for PVC pelletising and PVC profiles and pipes, underwent a major transformation between 2016 and 2017, when, partly as a result of the demonisation of plastics, it adopted a strategy of renewal that broadened its market horizons without abandoning its path of innovation. A consolidated direction, despite the reassessment of the protective qualities of plastic thanks to Covid.
"The market has responded very well", continues Alessandra Grosso, "also thanks to the high productivity guaranteed by the new range of single-screw extruders, which have been completely redesigned and which enrich the offer traditionally linked to counter-rotating twin-screw extruders. The Covid years have encouraged us to innovate further and to extend our product range in two directions, which we are successfully pursuing. One is waste recycling, with the E-GO R line of single-screw extruders designed to process post-industrial waste polyolefin materials, i.e. HDPE and LDPE. These lines are particularly appreciated by our pipe customers, who can use them to recycle all their waste back into their production cycle.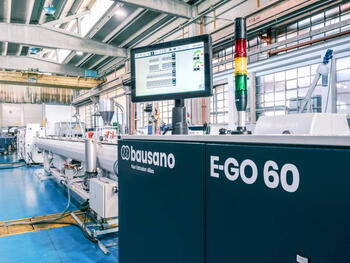 Recycling processing waste in a complete cycle
Bausano unveiled the new line at the 2022 edition of Greenplast and achieved break-even within a year, confirming that it is a winning choice in a market looking for innovative solutions to meet the growing demand for recovery and recycling in the thermoplastic production chain. On this point, Alessandra Grosso explains that "the new E-GO R line is part of the recycling segment, which can be understood in part as the reintroduction into the production cycle through the extrusion process. This is why we want to cover the market share of Bausano lines that process from virgin material. Feasibility tests requested by customers are giving good results, although there are many variables to be taken into account when processing post-industrial scrap. I am thinking in particular of processes such as the recovery of rubber mixed with cables or production residues contaminated with glass and/or metal fibres.
Interpreting materials in a sustainable way
The difficulty in processing non-virgin material lies in the challenge of what Alessandra Grosso defines as the interpretation of different types of plastics. In fact, recycling circuits require the processing of very volatile materials that need to be compacted and then extruded, with additional problems related to colour or odour, one of the main obstacles to the reuse of recycled plastic.
"These variables," continues Grosso, "do not, however, prevent us from constantly improving our solutions, for example by introducing in-line devices to limit odours. A project linked to the E-GO R line, which is still under development and for which we have a pilot plant at the Bausano plant. In fact, we have an E-GO R 60/37 line at our customers' disposal, equipped with an end-of-line, built thanks to the partnership with other Italian players who have supported us for the filter changer and the water cutting part, which is indispensable for polyolefin materials".
At Plast tube processing: an ever-active market
Bausano's second line of business is extrusion lines for polyolefin pipes, HDPE and LDPE, but also PVC, which has always been the company's core business. 
"We are revolutionizing our know-how in the segment of pipe production lines," says Alessandra Grosso. "During Plast 2023, we will be exhibiting our new technology related to lines capable of processing LDPE and HDPE pipes, so not just PVC. In fact, in the last year and a half we have introduced a new team with years of experience in this segment. This is a technical department dedicated to the development of pipe extrusion lines, ready to respond with innovative solutions to the ever-expanding infrastructure market. If we look at the competition, the Germans and the Chinese are our references, albeit with significant differences in terms of product quality, but they all lack the characteristic recognized by the Italian manufacturers: a high level of know-how, to which is added the willingness to adapt the plants to the real needs of the customer, designing each line according to the customer's requirements".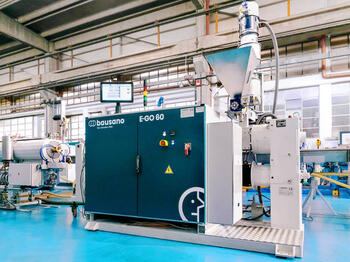 Responsiveness, customization, and a sartorial approach are the undisputed qualities of Italian machinery manufacturers around the world. Then, discussing competitiveness, Alessandra Grosso highlights the role of digitalization in a sector like extrusion: "AI, machine learning, 4.0 technology, can never completely replace the people with whom we interact, the possibility of talking to someone who understands our needs and problems and is willing to work to solve them. We must not stop investing in the people who make the difference, especially in pre- and post-sales service.
Technological innovation and sustainability in energy-intensive production
At the end of 2021, Bausano published a paper, available in the "Social Responsibility" section of its website, in which, by declaring its adherence to some of the goals of the 2030 Agenda, it consolidated a path of increasing attention to sustainability, culminating in an innovative solution designed to reduce the consumption of its lines, thus contributing to strengthening its own and others' paths of innovation. In fact, Bausano has now integrated the induction heating solution for cylinders into the Multidrive patent. "Thanks to its in-depth knowledge of the process, Bausano has replaced ceramic heating elements with induction coils, thus heating the cylinder with an electromagnetic field according to the typical logic of induction. Compared to a traditional resistive heater, induction can reduce consumption by up to 35%. This patent-pending system comes on top of the historic Multidrive patent and offers significant energy savings to the end user," adds Grosso.
In its quest for ever more efficient solutions, Bausano has embarked on the ISO14000 environmental management certification process, which it intends to achieve over the next year by adapting all its procedures and working protocols and installing photovoltaic panels on its warehouses. This is yet another sign of the transformation of a company that, in its 75 years of history, has always known how to interpret progress by making it an integral part of its business.