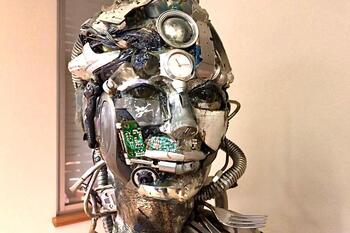 Once again IMG (based in Capriano del Colle, near Brescia) becomes an art gallery. After the successful exhibition of the works of Stefano Bombardieri last April, which attracted hundreds of visitors, this time the company has decided to host an artist from Bergamo to celebrate the year of Bergamo and Brescia as Italy's Capitals of Culture. This time, Dario Tironi is exhibiting 13 works from 10 November to 2 December at the company's premises, which will also be open to the public on Fridays and Saturdays. The works are entirely made of waste pieces of any kind, such as accessories, technological appliances, toys, household appliances, ornaments, gadgets and mass consumer goods made of the most disparate materials, to make us reflect on the cycle of renewal and removal of things typical of today's society. In this panorama of compulsive substitution, art revolutionises the current approach toward "waste" and insinuates itself into the folds of a collective conscience, trying to mend the fabric of the social body. 
In the 13 works exhibited inside and outside the factory, the waste is presented in the form of retrieved memories, echoes of a recent past, keys that open up a world of memories, where pieces of dolls, toys, electronic devices and old tools touch the emotional strings of those who observe them. As with Bombardieri, a work - Relics, 2023 - will be exhibited at Palazzo Bocca, home to the town hall of Capriano del Colle. The installations will thus be accessible to a wide audience - employees, suppliers, customers and external visitors - in the warehouse, in the production halls, in the work environments and among the tools of daily use, as if they were part of them.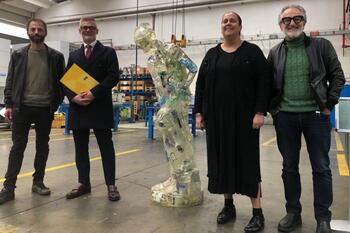 The initiative is a new stage of the broader project "L'arte ImPressa: che bello lavorare!" through which IMG wishes to present its vision of welfare: art, in its many forms, becomes a tool for well-being, a source of vital energy and personal growth. The idea of bringing art and beauty to the company's premises has long been rooted in IMG, where several works by various artists are already on permanent display.
"I personally love art, but I also believe it is a very powerful tool for raising awareness, capable of awakening the senses, awareness and therefore a necessary common reflection" explained IMG CEO Barbara Ulcelli. "This artistic path, perhaps uncommon in an industrial environment, is part of our vision of sustainability: a commitment that includes actions aimed at mitigating the ecological impact, for which IMG is at the forefront, but also a deep sensitivity to social well-being, from employees to the community in which the company operates. The last exhibition welcomed 1,000 visitors, including families with children. Enterprises must open up more and more and become shared places."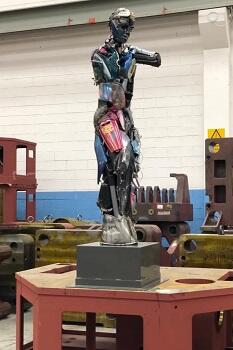 Art, Ulcelli also reminds us, is not decoration, but stimulus and challenge. At first glance Tironi's works are striking for their aesthetics, but after a while they become almost "disturbing". Many of the skilfully assembled objects are technological waste, plastics, gadgets that literally invade us today. The addiction to technology, as well as to many different objects of compulsive use, is a core issue for the artist. 
"We are overexposed to objects that we accumulate and throw away, we have lost touch with authenticity" commented Dario Tironi. "It's the first time I am exhibiting my works in an industrial factory and I believe this initiative perfectly expresses what I think about art. Art, in fact, should be experienced outside the institutional spaces designated for its fruition" 
Once again, an exhibition that connects IMG with the local community: "IMG offers us interpretations that are always interesting, which enrich our community" said the mayor of Capriano del Colle, Stefano Sala. "These works, in particular, force us to reflect on our confusion, on being always online on our devices, yet offline from feelings."